Microcvd Corporation is developing and commercializing Direct-Write Laser Chemical Vapor Deposition (CVD). This manufacturing process can deposit durable metallic and composite materials on 3D surfaces and in complex geometries.
Some features of Laser CVD :
Thick and thin film deposition of metals, high-temperature composites, and alloys
Conformal deposition on ceramics, polymers, and dielectrics
Coatings are durable and heat-resistant compared to conductive inks
Mask-free, lithography free, fast prototyping and turnaround
Line widths scalable from microns to centimeters
Conformal deposition on larger and complex surfaces
Part generation from commercial CAD/CNC and sensor modeling software
Potential Applications In addition to printing electrical circuits, this innovative AM technology has the potential for various other commercial applications in 3D printing by integrating it with existing AM tools. Laser material processing and microfabrication can be combined in the same operation with laser CVD. Industry-standard robotic motion tools enable different applications by providing 3D positioning of the laser CVD optics, the substrate, or both. Potential commercial applications include :
Printed antennas for mobile phones and internet-connected devices
Printed strain gauges (sensors that are very similar to antennas)
Conformal barcodes and retro-reflectors (used in precision rotating equipment)
Precision metal coatings on micro-sized parts
Optical filters and anti-reflective coatings for fiber optical communications
Laser CVD can deposit conformal thin films on a variety of product shapes. The concepts below show potential use of laser CVD coatings for barcodes, antennas, and conformal coating on high-temperature ceramics.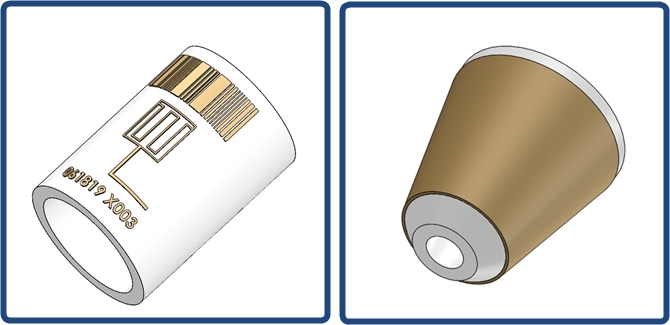 Microcvd Products and Services
We provide Laser CVD equipment design and build, and custom fabrication of components by Laser CVD.
Our customers can purchase turnkey deposition systems for their own R&D or for production printing. Contact us to discuss your application and a possible feasibility demo on your product samples.